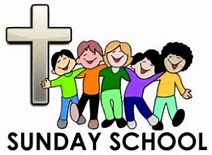 Sunday School provides a warm, friendly and fun place to explore our faith. We use a rotational teaching model with stations that alternate between story/drama, cooking, art and games. Each station relates to the children's sermon they just heard during worship. Kind and loving adults and teens volunteer to lead the stations. Children move with their 'shepherd' from choir and then to the different stations. Sunday School Children ages Pre-school to 4th grade meet on Sunday mornings during the education hour.(10:30-11:30) We have many fun activities during the calendar year in addition to this to support a child's journey in their faith.
To Register: Click here to go to the Sunday School page.
To Volunteer for Sunday School opportunities: Sunday School Signup Genius
---
First Communion
Holy Communion is one of the central elements of our Lutheran Faith. At Family of Christ children 1st grade and older are welcome to receive communion. To prepare your child, Family of Christ will be offering a class on April 28th (Saturday) from 9-noon. At this class we will learn about the language of Holy Communion, what Martin Luther says, the history of The Lord's Supper, the foods, and what it means for us. All individuals 1st grade and older who feel they are ready for this great gift are invited.
---
2018 Summer Vacation Bible School!
Family of Christ VBS theme for summer 2018 is…
SHIPWRECKED
Rescued By Jesus
Save the Dates!! July 22-26, 2018 (6-8pm)
Light Meal from 5:15-5:45pm