Children (Age 3yrs to 4th Grade)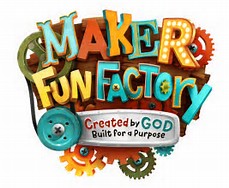 2017 Summer Vacation Bible School!
Family of Christ VBS theme for summer 2017 is…
Maker Fun Factory: Created by GOD—Built for a Purpose
Our week of VBS fun begins Sunday, June 18th and goes through Thursday, June 22. Sign your children up soon and buy a music CD so you can begin learning all the great songs! Registration is 20.00 per child, with a family max of 50.00. Music CDs are 8.00. (supply is limited)
If you want to be an important part of our 2017 VBS team, and help us with this fun and memorable week, please talk to Sherry Goodman or Pastor Brent and stay tuned for more information! We will need crew leaders to lead small groups from station to station as well as station leaders for all of the fun activities.
FORMS COMING SOON: You can get a form from church or you can click HERE to register online for VBS or to download a printable registration form.
Registration Fees can be paid online! Click on

for VBS registration fees.
Sunday School
Sunday School provides a warm, friendly and fun place to explore our faith. We use many hands-on activities, online resources and a wonderful curriculum that provide kids with Bible Stories, Bible Basics and an overview of Martin Luther's Small Catechism. Sunday School Children ages Pre-school to 4th grade meet on Sunday mornings during the education hour. Classes are taught by a team of wonderful volunteer teachers. Memorable events in a child's faith education are baptism, 3rd grade Bible presentations, First communion, Lent activities and our Family of Christ Christmas Program and Potluck. We have many fun activities during the calendar year in addition to this to support a child's journey in their faith. Click here to go to the Sunday School page.
---
First Communion
Holy Communion is one of the central elements of our Lutheran Faith. At Family of Christ children 4th grade and older are welcome to receive communion. To prepare your child, Family of Christ offers a two week class in early spring. At this class we will learn about the language of Holy Communion, what Martin Luther says, the history of The Lord's Supper, the foods, and what it means for us. All individuals 4th grade and older who feel they are ready for this great gift are invited.