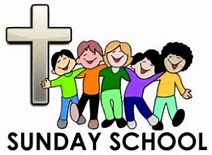 Sunday School provides a warm, friendly and fun place to explore our faith. We use a rotational teaching model with stations that alternate between story/drama, cooking, art and games. Each station relates to the children's sermon they just heard during worship. Kind and loving adults and teens volunteer to lead the stations. Children move with their 'shepherd' from choir and then to the different stations. Sunday School Children ages Pre-school to 4th grade meet on Sunday mornings during the education hour.(10:30-11:30) We have many fun activities during the calendar year in addition to this to support a child's journey in their faith.
WATCH FOR MORE INFORMATION ON FALL 2019 PROGRAMS
---
First Communion
Holy Communion is one of the central elements of our Lutheran Faith. At Family of Christ children 1st grade and older are welcome to receive communion.
WATCH FOR UPDATES REGARDING OUR NEXT FIRST COMMUNION CLASS.